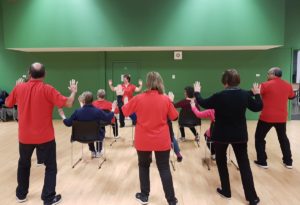 Thank you for your interest in Kia Ora Tai Chi.
The last evening class for 2020 will be held on Wednesday 2 December. The first evening class for 2021 will be on Monday 11 January.
We teach tai chi and qigong classes for adults of any age on Monday and Wednesday evenings in the Manurewa South School hall, 18 Totara Road, Manurewa. (Please refer to the map below.) We also teach classes on Thursday mornings in Mangere. More info below on this and you can also click here
The beginners evening class is currently full. The next beginners class (in the evenings) will probably be in February 2021. If you'd like to be added to the waiting list, please text or phone Jocelyn Watkin on 027 493 9851 or please use the Contact Form. 
Participants in the evening classes are encouraged to attend two nights per week. However, if you are committed to practicing between classes then it is OK to attend just one class per week.
The above map shows the location of the evening classes in the Manurewa South School hall. The entrance to the hall and the parking is at 18 Totara Road (please don't go to the main entrance to the school, which is on another street).
The tai chi class on Thursday mornings accepts beginners at any time and of any age. These classes are free and are from 10 – 10.45am at Turuki Health Care in Mangere No need to RSVP, just come along.  Click here to find out more. The last tai chi class for 2020 at Turuki will be Thursday 17 December. Classes will restart for 2021 at Turuki on Thursday 21 January.
Please text or phone Jocelyn Watkin for more information about any of the classes: 027 493 9851. Alternatively, please use the Contact Form to get in touch.
Cost of classes:
Monday & Wednesday evening classes: Your first class is FREE. After that, prices start from $9.50 per class. A discount is available for those who are referred by ACC and Age Concern for the Community Group Strength and Balance Exercise programme ("Live Stronger for Longer"). You must be aged 65+ AND be referred to qualify for this discount.
Thursday morning class at Turuki Health Care: Free to attend any and all classes. Click here to find out more.
What to wear: Please wear loose comfortable clothing and flat-soled shoes (such as sneakers, trainers or tennis shoes). Please also bring a bottle of drinking water.
What to expect: All of the classes begin with a sequence of easy, flowing, warm-up exercises which are low impact and gentle on your joints. These exercises are designed to improve your balance and core strength.
Then, Jocelyn and her team of instructors will guide you through a Tai Chi for Health form – a series of linked postures and steps, which are also designed to strengthen your leg and core muscles and improve balance. The steps are performed in a slow, focussed manner and accompanied by deep breathing.
Tai chi is easy, fun and a really great exercise, which is good for your body and helpful at reducing stress. If you are unable to stand for very long, Jocelyn and several of her assistant instructors are also qualified to teach seated tai chi, which you can do alongside the rest of the class.
All of these Tai Chi for Health classes are approved with the BIG TICK  for the Community Group Strength and Balance Programme so you can "Live Stronger for Longer".
What is tai chi? Described as "moving meditation", tai chi is an ancient Chinese martial art that combines mental focus with deliberate and relaxed movements. Regular practice of tai chi can help improve strength, health and balance, reduce stress and lower blood pressure.  Read more about the health benefits of tai chi.
Please text or phone Jocelyn for more information: 027 493 9851. Alternatively, please use the Contact Form to get in touch.