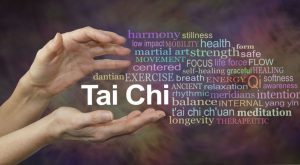 Often described as "moving meditation", tai chi is an ancient Chinese martial art and exercise programme that combines mental focus with deliberate and relaxed movements that are gentle on your joints. It is sometimes referred to as "taiji" or "tai chi chuan".
Tai chi is a subset of the much older practice of qigong (pronounced 'chee – gong'), which is a deep breathing exercise. In Chinese, the word is made up of two characters: 'Qi' = air, breath and life energy; and 'gong' = working hard to develop a high skill level. Therefore, qigong means: 'the skill of getting more breath, energy and life'.
All tai chi forms incorporate qigong for the extra energy and oxygen it provides. The linked postures and steps of tai chi, along with deep breathing (the qigong), are designed to improve your overall health, balance and fitness and can strengthen leg and core muscles. Tai chi is good for your body as well as your mind, and is helpful at reducing stress.
Read: A comprehensive review of health benefits of qigong and tai chi
Dr Paul Lam, the director of the Tai Chi for Health Institute, talks about "What is tai chi?" in this short video clip below.
At Kia Ora Tai Chi, we teach a number of tai chi programmes and styles (Sun and Yang). Jocelyn Watkin and her team of assistant instructors are also all qualified to teach Tai Chi for Arthritis (TCA). TCA is an evidence-based Tai Chi for Health Institute programme, which has been clinically proven to improve strength and balance and to reduce falls. Read more here
A film crew from Counties Manukau Health (which includes the biggest hospital in South Auckland, Middlemore Hospital) filmed the Kia Ora Tai Chi team and student, Frank, to promote TCA as an approved exercise programme for the "Live Stronger for Longer" campaign. Check out the video below for Frank's story:
Jocelyn is also a qualified qigong instructor. You can find out more about qigong here.
Read more about "What is tai chi?": In her article, titled "What is tai chi?" Sybil Wong says. "Tai chi is multi faceted and is different things to different people. Some people see it as a meditation, some as an exercise you do in the park, others as a form of relaxation. But to put it simply, tai chi is one of the most famous Chinese martial arts of the internal style. Read more of this article.