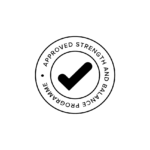 Jocelyn Watkin, founder of Kia Ora Tai Chi, and also her assistant instructors at her Kia Ora Tai Chi classes are all approved with the big tick by ACC (Accident Compensation Commission) as Strength and Balance Exercise instructors for fall prevention. This is for ACC's Live Stronger for Longer programme for those aged 65+
In New Zealand, ACC has also funded a free app, called Nymbl, to help with fall prevention.
In April 2023, Jocelyn and two of her tai chi students, Roy and Terille, talked with TV3 journalist, William Waiirua, about the Nymbl app and the importance of having good balance for fall prevention.
 Here are the links to download the Nymbl app, which is also free for use in New Zealand, as it is funded for all NZ'ers by ACC:
Please note that both of the Nymbl links above must be opened on a smart device (mobile phone, tablet, iPad etc) in order to be downloaded.
Beginners can join Jocelyn's tai chi class for beginners on Monday evenings in Clendon, Manurewa, Auckland: https://www.kiaorataichi.nz/classes/
Next story: Evangeline – Overcoming the fear of falling
In this interview with Accident Compensation Commission (ACC), Kia Ora Tai Chi student, Evangeline Nair, talks about how attending a tai chi class twice a week has changed her life. She was once scared to leave home. Now she is independent and living life to the full.
For many years Evangeline was terrified of falling.
The Manurewa local and proud Fijian Indian found as she got older, she struggled with tasks like walking or carrying her shopping. She also became more prone to toppling over.
"I have gone down a few times and grazed myself quite badly," says the 72-year-old.  "Luckily there were people around to help or I was near a building or a shop where I could quickly reach out and support myself before I fell further. I was terrified of damaging my knees or something worse.
In 2016, Evangeline started learning tai chi twice per week with Jocelyn Watkin of Kia Ora Tai Chi, which has hugely helped. "I haven't fallen once since attending tai chi," she says proudly.
Evangeline prioritises the classes as they are important for her physical and mental wellbeing. "I love it," she says. "The classes are the highlight of my week and have made a big difference to my life."
The grandmother says it's also important to attend tai chi regularly to reduce her high blood pressure and to manage stress.
"Little things can trigger a lot of stress and anxiety in me, and the tai chi breathing exercise has helped hugely," she says.
"When I have those moments of stress, I remember what I have learned, and I go and sit on my bed and just slow everything down by breathing. Then, I feel I'm energised again. I'm calmed down tremendously."
Falls are the most common cause of injury in New Zealand, accounting for 39 percent of all ACC claims.
According to ACC Injury Prevention Programme lead, James Whitaker, the majority of falls and falls-related injuries are preventable.
"Falls have a significant impact on a person's quality of life, especially if it results in a fracture, so we want to do what we can to prevent them from happening in the first place," says Whitaker.
ACC accepted 760,457 claims for falls-related injuries in 2021, these injuries came at a cost of $1.6 billion to help people recover.
Falls-related injuries most commonly occur in the home, and women are slightly more likely to be injured by falling than men.
Every year, one in three people over 65 injures themselves in a fall, rising to one in two once they reach 80.
All of Jocelyn's tai chi and qigong classes are approved with the BIG TICK for the Accident Compensation Commission's fall prevention initiative: Community Group Strength and Balance Programme.
Beginners can join Jocelyn's tai chi class for beginners on Monday evenings in Clendon, Manurewa, Auckland: https://www.kiaorataichi.nz/classes/
Tai chi classes, more than physical benefits:
The tai chi classes have not just helped Evangeline physically but also given her a sense of community.
"We have a wonderful group; they are all around my age and it's great companionship. I have a very close relationships with them and we are all supporting each other in life. I've found it's so beneficial to me."
She even logged in online during her holiday in Australia when she was visiting family.
During COVID-19, Jocelyn (the tai chi instructor), showed everyone in the class how to use Zoom when they couldn't attend in person.
Evangeline says: "So, when I said I was going to Australia for a holiday, Jocelyn said why don't you Zoom in so you can still keep attending the class – 'I thought why not?'."
"I told my family it was a priority for me, and it was so nice to see everyone while I was away ."
Attending the tai chi classes ensured Evangeline was able to have an enjoyable holiday. She says, "When I was in Australia, I was going shopping and doing lots of walking – the Zoom tai chi classes helped me a lot with my strength and stamina to cope".
Jocelyn says: "Evangeline loves coming to tai chi classes and we all love having her as part of our group. Over the past six years it has been great to get to know her and see the difference that doing tai chi has made in her life. She is now independent, confident and having fun."
Evangeline says she will keep attending tai chi for as long as she is able. "It's something I'll continue to do until I die because it keeps me going."
Note: This story first appeared in the Manukau Courier on 12 January 2023.
Beginners can join Jocelyn's tai chi class for beginners on Monday evenings in Clendon, Manurewa, Auckland: https://www.kiaorataichi.nz/classes/
If you don't live geographically close to Jocelyn's classes you can find your nearest strength and balance class in this link:
https://www.livestronger.org.nz/home/find-class/find-a-class-near-you/