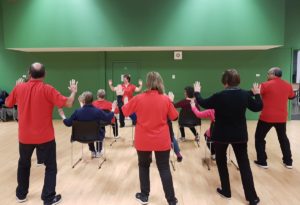 Please note: This is a post from February 2019:
Free tai chi classes for beginners on Monday 11 February and Wednesday 13 February 2019, 6.30 – 7.15pm in Manurewa.
There is lots of free parking. Click here for more information and a map.
After the free classes, a new beginners class will start on Monday 18 and Wednesday 20 February 2019. Same time and same place.
Tai chi is enjoyable, easy on your joints, flowing and will help you increase your fitness, reduce stress, improve your balance and stay stronger for longer. It is ideal for complete beginners and suitable for adults of any age and high school students. Seated tai chi is also available.
Come along and give it a try with a friendly bunch of people at a great venue.
Classes are taught by Jocelyn Watkin, a fully-qualified, premier instructor with the Tai Chi for Health Institute. She is supported by a team of assistant instructors, who are also qualified.
Find out more on what to wear and what to expect at the classes.
To RSVP please text or phone the instructor, Jocelyn Watkin on 027 493 9851 or use the Contact Form
All of these Tai Chi for Health classes are approved with the BIG TICK for ACC and Age Concerns' Community Group Strength and Balance Programme so you can stay "Stronger for Longer"