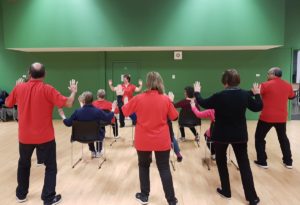 Note: This event has now passed.  However, another International Day for the Older Person will be held on Tuesday 1 October, 2019, from 10am – 12 noon at the Mercy Spirituality Centre in Epsom.
Announcing a special tai chi event to celebrate International Day for the Older Person on Monday 1 October, 2018, 10am – 12 noon.
I will give a short talk on tai chi's fascinating history and why tai chi is so good for health, strength, fitness, balance and flexibility, particularly for anyone over the age of 60.
After the talk and a short break for morning tea, you'll get the opportunity to try tai chi for yourself. I will teach a brief section of Tai Chi for Arthritis and Fall Prevention. It is ideal for beginners and can be done seated or standing. Of course, you don't have to have arthritis to benefit from this Tai Chi for Health Programme.
Can anyone attend? Yes, all are welcome and especially anyone who is aged 60+. Places are limited so please RSVP.
When: Monday 1 October, 10am – 12 noon
Where: Te Ngakau Waiora Mercy Spirituality Centre,104 The Drive, Epsom, Auckland 1023. Refer to map.
Cost to attend: $15 per person, which includes morning tea. Please pay on the day. Free, off-road parking on site.
RSVP: Te Ngakau Waiora Mercy Spirituality Centre, Phone: (09) 638 6238; Email: info@mercyspiritualitycentre.org.nz
If you have ever wondered about tai chi or about the questions below, then this event is for you:
How can something done in slow-motion be good for health, fitness, strength and flexibility?
I've heard that tai chi can help someone to improve their balance and avoid falls. Is this possible?
What is tai chi, taiji and tai chi chuan?
Is tai chi a philosophy, an exercise programme or a martial art?
Tai chi is known to be good for people aged 60+. Why is this?
Can tai chi be used for self-defence?
What is the difference between yoga and tai chi?
Click here to find out more about this event.
Click here to find out more about me (Jocelyn Watkin).