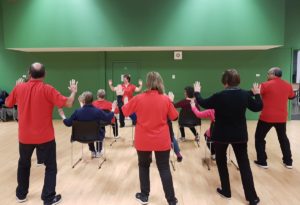 What I love about seated tai chi is that enables all to enjoy the health and wellness benefits from tai chi, regardless of ability, age, size, shape or whether you have an illness or injury.
Often described as "moving meditation", tai chi is an ancient Chinese martial art that combines mental focus with deliberate and relaxed movements that are gentle on your joints.
It is sometimes referred to as "taiji" or "tai chi chuan". You can find out more about tai chi here.
The term 'gentle' does not mean ineffective. Seated tai chi can be an incredibly good fitness routine to strengthen your core muscles and your back.
I am a board-certified and premier instructor for Tai Chi for Health Institute. I am qualified to teach a number of Tai Chi for Health programmes, including Seated Tai Chi for Arthritis (TCA). Click on this link to learn more about me and the Kia Ora Tai Chi team
There have been numerous clinical trials and studies that confirm the health benefits of TCA, such as:
Improved health and well-being
Greater strength and flexibility
Better balance
Relieving pain and reducing stress
Improved sleep
Give Seated TCA a try for yourself, whether at home or in the office. You'll be able to learn it in eight easy steps in the video below, which I've made just for you.