Thanks for your interest in this workshop.  Registrations are now closed.
Want to feel great this winter? Join in on a fun and relaxing tai chi workshop on Sunday 10 June to increase your winter wellness and boost your immunity.
Tai chi is an ancient Chinese martial art that combines mindfulness with a series of linked postures and steps, These steps are performed in a slow, focussed manner and accompanied by deep breathing.
At this one-day workshop you will learn specially designed tai chi movements that are easy to learn and will help you to:
ward off winter's bugs and improve your overall health.
keep warm by improving your blood circulation.
calm and clear your mind, which will help you to re-boot your immune system.
get a good night's sleep to further boost your immunity.
ramp up your energy and strength – anytime, anywhere.
relieve stress to give yourself a fighting chance for continuing good health.
When: Sunday 10 June, 9.45am to 4pm.
Where: Te Ngakau Waiora – Mercy Spirituality Centre, 104 The Drive, Epsom, Auckland 1023. View map
Price: $95 per person (including GST). A refund is available up to 30 days before the event. Plenty of free parking on site.
Instructor: Jocelyn Watkin, who is a  premier instructor with the Tai Chi for Health Institute.
Places are limited to a maximum of 10 people.
Almost anyone can learn tai chi, which can be done while standing, seated or even lying down. It is a low impact exercise and is suitable for adults of any age, high school students and all fitness levels. You do not need special shoes, expensive clothing or any fancy equipment. And, you won't get all sweaty or puffed out.
What to wear: Loose, comfortable clothing and flat shoes like sneakers or trainers.
Bring: a bottle of water and your lunch. If you'd like to try tai chi while lying down please bring your own yoga mat or similar.
Tea (including green tea) and coffee provided.
This tai chi workshop is for you if you:.
Want to improve your overall health and fitness.
Want to boost your immunity this winter.
Are worried whether the flu shot will be enough for all strains of that virus heading our way this year.
Want to find a better way to manage stress.
Have always wanted to try tai chi.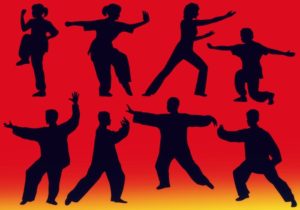 All welcome.
Tai chi aims to achieve harmony with nature and the balance of mental serenity and physical strength. It is the natural and peaceful way to help you to prepare for winter and sustain you over the winter months.
Find out more: